Casement Windows
Open up to 90 degrees outward and seal tighter than your refrigerator door
When it comes to performance and beauty…no window can compare to the Casement! Casement window design allows for the very best of both the aesthetic and performance worlds. Yeah, I know…what the heck does that mean?

Casement Windows operate much like a door; they are hinged on one side and use a hand-crank mechanism to open. This design creates an extremely efficient refrigerator-like seal that keeps out extreme wind and cold and provides you with a unique level of protection from the outside elements.
Additionally…since there is just one large "panel" that opens outward, when the Casement window is closed, you have a completely uninterrupted view. This "max glass" design makes a casement window ideal for bringing the outdoors, IN.
Casement windows are stylish and practical, and are amazing for ventilation purposes since they open wider than any other window on the market. Use Casement Windows alone or use them to compliment another larger window, such as a Bay Window.
Casement Window Characteristics
Casement Window characteristics typically include:
Tall and Narrow
Pivot on a Hinge
Opens outward 90 degrees
Operates with a hand crank
Window Depot USA Casement Windows are superbly engineered with 1-inch insulated glass units, superior bulb-style seal for air-tight performance, and an aesthetically superior beveled sash design. Our Casement Windows come standard with heavy-duty hardware with ratcheted gear operation and a multi-point locking system that operates from a single bar.
Casement Window Features & Options
When choosing a Casement window for your home, here are some of the available product features and options:
Sleek single point lock mechanism (standard)
Elegantly designed and easy to use crank handles that don't get stuck on blinds or treatments (standard)
Refrigerator type bulb seals (standard)
100% virgin uiPVC formulation (standard)
Multi-chamber extrusion design for structural integrity and thermal peformance (standard)
Insulated Glass Units that are 1″ thick (standard)*
Warm Edge glass spacing system (standard)
Double or Triple Stacked Low Emissivity Glass – "Low E" (option)
Argon or Krypton inert, insulating Gas (option)
Colonial and Diamond Grids (option)
Tempered Safety Glass (option)
Interior Simulated Wood Finish (option)**
Exterior Polymer Color Finish (option)**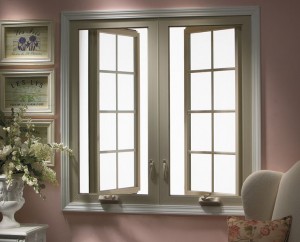 For more information regarding the many options and features available with our Window Depot USA Casement windows, just fill out the free replacement window quote form today.
* – most cities, call for details.
** – select cities, check with your local Window Depot USA office for details.