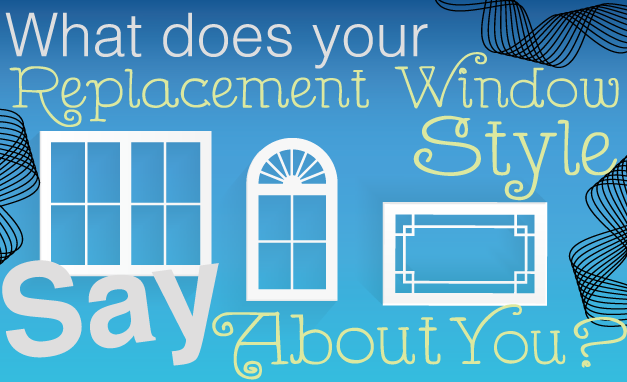 Buying new replacement windows for your home is a big deal. You have multiple features, add-ons, and stylistic options to consider. Replacement windows come in all shapes and sizes, from rectangular to octagon. With all of the interesting color combinations and geometric options, it comes as no surprise that your replacement window style somewhat reflects your personality.
So, what does your replacement window style say about you?
Double Hung: Classic and Simplistic
Double Hung Windows are perhaps the most classic option of all replacement window styles. The double hung dates back to the 1670s in London, England. This style is suitable for nearly any style home and looks fantastic in a wide range of color combinations.
If you are considering double hung windows, you have classic taste with appreciation for simplistic beauty.
Casement Windows: Contemporary
Casement Windows are the only replacement windows that crank out on a hinge. They open at an angle and let lots of fresh air into your home. You can enhance the casement's contemporary image by eliminating grids and sticking to clean lines. Homeowners with casement windows enjoy the distinguishable features of casement windows with appreciation of modern amenities.
Slider Windows: Easy Going
Slider Windows also provide a unique angle, as they horizontally slide open. Clean and convenient engineering ensures that your slider windows seamlessly glide open with your fingertips. If you own slider windows, you are easy going and like to keep your home's design elements simple yet functional.
Bay And Bow: Elegant
There's nothing quite like a beautiful bay or bow window. They open up your living space, and they can even create cozy reading nooks. Not only do Bay and Bow windows help your home appear larger, they add an element of elegance that is unmatched by any other style of window.
If your preferred replacement window style is bay and bow, you're the elegant type who enjoys high quality upgrades to your home.
Garden Windows: Cheery
Garden windows are specifically designed to showcase your collection of houseplants. The great thing about garden windows is that they can make it feel like spring time in your home all year long. After a long winter, nearly everyone is happy to see plants in bloom— even if it's growing right in your garden window.
If your favorite window style is the garden window, you are a generally cheery and optimistic person who isn't afraid to stop and smell the flowers.
Geometric: Innovative
Replacement windows don't only come in rectangles and squares. Ranging from hexagons to octagons and circles, geometric windows can add an unexpected element to the home with a fun twist.
If you enjoy fun and funky window styles, you are an innovator who wants to stand out from your neighbors around the block.
Triple Pane: Trend Setter
Triple Pane replacement windows are making a breakthrough in the industry, and it's easy to see why. Their third pane of glass with sound-blocking technology creates a comfortable home that's quiet and relaxing.
If your preferred replacement window style is Triple Pane, you are a trendsetter who embraces new concepts and technology. You're the first to make a statement in your neighborhood, and what better way to do so than with Triple Pane windows?
There's a replacement window out there for nearly every style and personality. No matter your style, new replacement windows will make your day a bit brighter. Discover what replacement window style speaks to you by contacting us today.